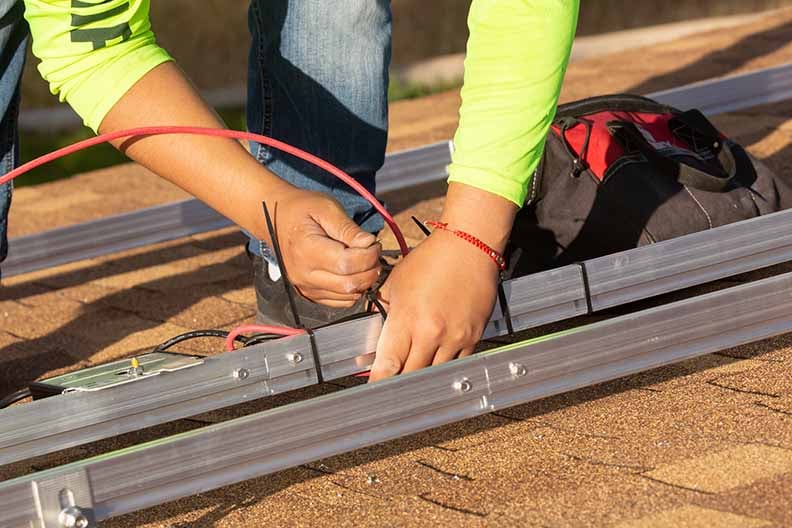 Solar panels and PV systems have a typical life expectancy of 20-30+ years. When all wires are correctly managed, the system is much more likely to last and will require fewer repairs throughout its lifetime. However, for the inevitable maintenance needed overtime, proper wire management allows maintenance personnel to troubleshoot and target problems more easily. Dealers and installers also know that poor wire management leads to serious problems. In fact, there have been two major PV array incidents of fire in just the last ten years. Stringing conductors along sharp edges, not properly identifying conductors, or polarizing the wrong combiner boxes are common errors resulting in circuits shorting.
Wire fastener components must fit properly to keep the system safe. Fastening wires too tightly or bending cables past their minimum radius can cause stress on the insulation, increased resistance, and overheating — ultimately leading to power losses or fires. Installers must also account for thermal expansion or risk damage at roof edges and box fittings. These oversights can cause fires or lethal voltages.
The weather must also be considered during installation. Solar panels and all of their components, including fasteners, need protection from the harsh elements they are constantly exposed to, like direct sunlight. They must be able to withstand extreme temperature ranges and sealed to protect from water immersion. Most standard black cable ties are considered UV Resistant.
Standard cable ties use a Nylon 6/6 material, making them flexible, sturdy, moisture absorbent, and UV Resistant as carbon black is added. For example, when the cable tie is directly exposed to the sun, such as solar applications, we recommend Nylon 12 or Polyamide 12 (PA12) cable ties. This tie is specifically designed for prolonged exposure to harsh outdoor environments. Keep in mind that Nylon 12 and Nylon 6/6 black cable ties have a distinct difference. Nylon 12 has a UV Inhibitor along with Carbon Black added during the molding process making Nylon 12 material possess excellent UV resistance, moisture resistance, and chemical resistance when compared to standard Nylon 6/6 UV Rated products.
Along with the Nylon 12 products, we also recommend cable ties and accessories offered by Hellermann Tyton, which are made out of a PA66HIRHSUV material. PA66HIRHSUV is Nylon 6/6 blended with an added UV Stabilizer, high-impact resin, and heat stabilizer. These products can be more cost-effective in most solar applications.
Nylon ties are probably the most popular style out there and are used across multiple platforms. Another thing that many people are not aware of is that there are also stainless steel cable ties that will hold up to all outdoor elements and remain fastened until cut loose. CTU offers standard stainless steel and black polyester coated (our most popular non-Nylon item sold in the solar industry) stainless steel ties.
Read our blogpost: Care Guidelines for Nylon 6/6 Cable Ties
Choosing quality products that withstand the elements associated with solar industry applications can prevent unnecessary service/warranty calls and improve overall customer satisfaction with your product. Our representatives are experts in the industry and can help you choose the most cost-effective fastener and wire management systems for your solar application.