Choosing the Right Cable Ties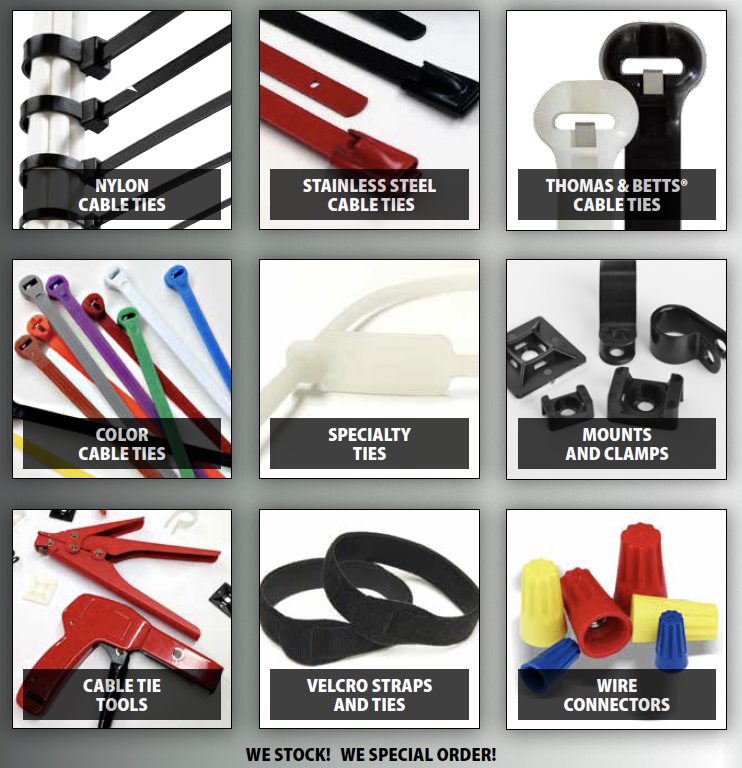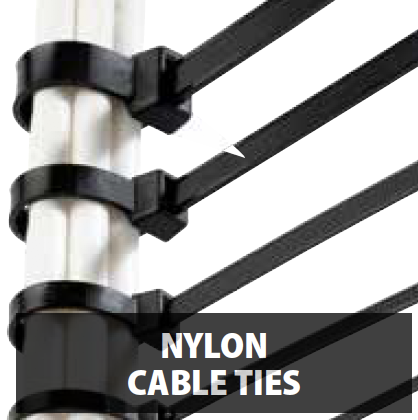 General Purpose Applications
Nylon 6/6- General Purpose
General-purpose nylon 6/6 is suitable for use in most practical applications at a continuous temperature up to 150°F. Nylon 6/6, the grade most often used for cable tie production, meets UL 94V-2 flammability ratings. It's working temperature range is from -40°F to 185°F.
Outdoor Applications
Nylon 6/6- UV Stabilized
UV Stabilized Nylon 6/6 is used in continuous or extended exposure to outdoor sunlight. The nylon cable tie is a weather resistant grade, enduring additional ultraviolet (UV) light. This grade is produced by incorporating stabilizers in the nylon resin. UV Stabilized Nylon cable ties are available only in black.
Chemical/Heat Restraint Applications
Heat Stabilized
Heat Stabilized Cable Ties are recommended for applications when resistance to higher temperatures is necessary. While general-purpose Nylon 6/6 works effectively in many applications, the addition of effective heat stabilizing material enables Heat Stabilized Cable Ties to perform effectively in temperatures up to 221 degrees F. Heat Stabilized Cable Ties are black in color. The one-piece construction allows for consistent performance and reliability.
Extreme Temperature
Extreme Temperature Cable Ties are able to withstand bitterly cold temperatures, as well as direct sunlight, making them versatile and extremely tough. They have extended UV Sunlight protection. The one-piece constructions provide consistent performance and reliability. Extreme Temperature Cable Ties perform effectively in temperatures down to -20°C and
are the only ties that can be installed in temperatures as low as -20°C (-4°F).
Tefzel®
Although weaker than general-purpose nylon 6/6 (about 37%), Tefzel is resistant to a wide range of chemicals such as concentrated hydrofluoric and sulfuric acids. It is also a low water-absorbing material, therefore, moisture has a minimal effect on it. Tefzel is radiation-resistant up to 100 megarads and meets IEEE requirement 333. Tefzel also withstands high temperatures, ultraviolet light exposure, and meets UL flammability requirement 94V-0.
Plenum - Halar®
Halar is similar to Tefzel in performance. Its outstanding characteristic is a lower smoke density when burned. This makes Halar more desirable for use in areas where smoke generation is a concern, as when bundling wire in plenum spaces.
PEEK
Designed for harsh environments where a cable tie material is required to hold up to chemical, high radiation, and/or high operating temperature environment. They are made of a non-conductive material that is excellent for high-temperature applications up to 500°F (260°C). They have a flammability rating of V-0 with low smoke and toxicity. PEEK material meets MIL specification MIL-P-46183 and is approved for use by The Department of Defense.
Metal Detectable Applications
Metal Detectable
Teal metal detectable cable ties are ideally made for use in the food, beverage, pharmaceutical, and cosmetic industries. Apart from keeping things in your home or workplace bundled, secure, and organized in a simple way, these cable products are perfect for preventing contamination of consumable goods. Each cable tie contains tiny bits of metal that enable it to be detected by safety scanners. This feature, coupled with their blue color, make this type of cable tie easy to detect, thus keeping them out of the product and helping to avoid critical recalls and liabilities.
Metal Detectable / X-Ray
Designed to meet food, beverage, and pharmaceutical safety standards, metal detectable cable ties feature metal impregnated material so they are identifiable by metal detectors and x-ray inspection equipment. Metal detectable cable ties are ideal for fastening cables and hoses in processing and packaging areas to prevent contamination.
If you need help finding the right cable ties for the job, get in touch. Our experts have the experience to point you in the right direction.
Cable Ties Unlimited Wholesale Blog